Hip Hop Star Lil Jon Constructs Classroom Block In Ghana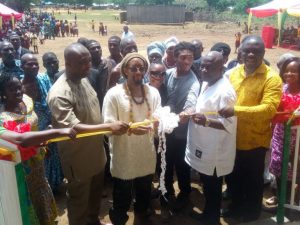 American Rapper, Record producer and DJ, Jonathan Smith, popularly known as Lil Jon on Thursday October 12, 2017 commissioned a three unit KG Classroom block with ancillary office and washroom facilities at Abomayaw, a rural community in Asuogyaman district of the Eastern region of Ghana.
The constructed classroom block has ended several years of struggle for conducive learning environment for children in the community.
Kindergarten Children have over the years, studied under trees and a shed. The pupils were sent home whenever it rains.
The demoralizing condition of the KG building compelled many parents predominantly peasant farmers from sending their children to school. Out of estimated 200 school going age children in the community, only 75 have been admitted at KG level as a result.
Commissioning the fully furnished classroom block, the American Music Icon, Lil Jon, accompanied by his wife, Nicole Smith and Son Nathan Smith explained that he funded the project through Pencils of Promise, an NGO, in Memory and in Honour of his late Mother, Carrie M. Smith whose birthday falls in October.
The 46-year-old Musician in an interview with the Starr News said "this is the first Project we've done together of this kind and it is amazing to see the community come out to support and the appreciation they are showing for us building the school and I just feel like I'm lost for words of how amazing it feels to give the community something like this school."
He added that children in their early ages learn so many things therefore the need to get a conducive learning environment.
"Kindergarten kids at their age they keep up so much stuff so if you can provide appropriate environment for education it can make learning very easy for them and I'm glad I can help facilitate that for these kids looking at where they came from, open basically sheds outside, you can imagine the heat and the obstruction and now they have a well building if it rains."
The musician who is a member of the East Side Boys and reportedly worth $25 million stated that his family chose Ghana for the project because they are black Americans and thus bias for Ghana.
The Member of Parliament for Asuogyaman, Thomas Ampem Nyarko, who supported 20% of the Project out of the MPs Common Fund with the supply of some building materials, urged parents in the community to take advantage of the project to enroll their children who are out of school.
Children in Abomayaw community elated by the construction of the facility, thrilled their guests with dramatic display of their culture which forced LIL Jon and his team to join the children on the dance floor.
The community, later presented valuable traditional cloths and beads to the Smith Family in appreciation to their kind gesture.
Source: Ghana/Starrfmonline.com/103.5FM/Kojo Ansah